VIBCARE PHARMA: Best Ayurvedic Company in India
Nuralz is a division of Vibcare Pharma that deals to provide you the best ayurvedic company in India with the commitment of building a strong distribution network and supply chain. Nuralz is one of the top ayurvedic companies. We give top-of-the-line prescription and over-the-counter Ayurvedictology medical products for the Franchise business in Ayurvedic Medicines PCD.
Nuralz is currently open with the Ayurvedic PCD Franchise opportunity, thus, invites the pharma professionals who are willing to deal in Ayurvedic products for franchise/business associates' district wise or state wise.
We have many & Pharma PCD Companies listed who provide an ample range of Ayurvedic Product Franchise. The trust we built among our clients is what makes us the best ayurvedic company in India.
Nuralz provides the best industry packaging for long shelf life and a range of products that are in demand. Our products have good reach with sustainable pricing, and this is our key strategy to grow in the market that makes us Best Pharma PCD Company for Ayurvedic Products.
Call us now at +91-9888-9888-58. Get more detailed information about ayurvedic PCD franchise business.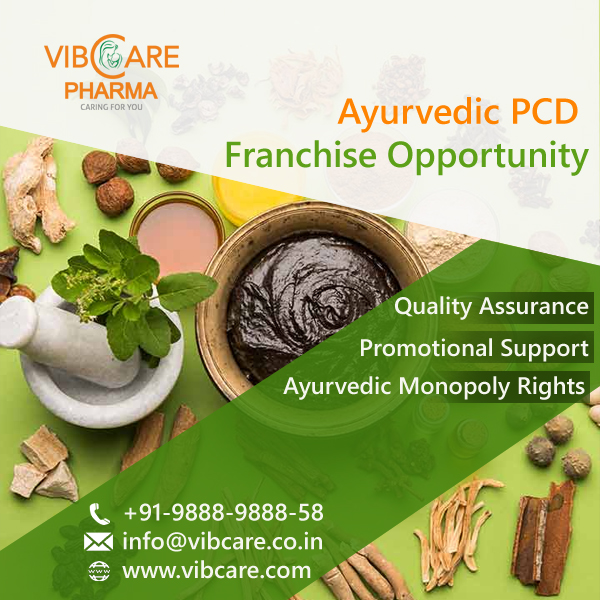 Why Vibcare Pharma is the Best Ayurvedic Company?
Vibcare Pharma is counted among the best ayurvedic companies in India because of many unique and amazing qualities that make it the best among all in India. Here are some of them:
Network
Serving over 1000 Pharma Franchise customers.
Quality
We Offer high-quality WHO-GMP Certified Products.
Wide Portfolio
We offer over 300 different products in over 6 Therapeutic Segments.
Services
We offer services like PCD Pharma, Third Party Contract Manufacturing, etc.
Trust
Vibcare Pharma is an ISO Certified company trusted by over 1000 Customers.
Experience
With over 40 Years of experience in this industry, we have unparalleled expertise in this industry.