The Government has banned 328 FDC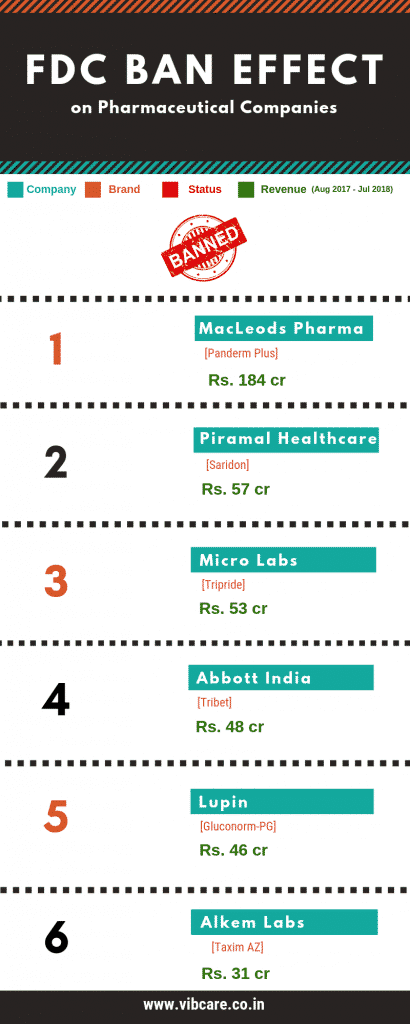 The Health Ministry has banned the manufacture, sale, and distribution of 328 Fixed Dose Combination (FDC) drugs with an immediate effect on September 12, 2018. The Indian pharmaceutical market size is estimated at around Rs 1.18-1.2 lakh crore, and FDCs reportedly make up approximately 50% of the sales. Here's what you need to know about them:
FDC means a combination of two or more drugs in a fixed dosage ratio. Some of the 328 banned FDC were: Cefixime + Azithromycin, Metronidazole + Norfloxacin, and Paracetamol + Propyphenazone + Caffeine (trade name Saridon), Ofloxacin + Ornidazole Suspension.
Why FDCs are so popular?
The simple answer to this question is cost. It is very cheap to buy Fixed dosage combination. Instead of buying two or more different medicines, a patient can buy only one FDC medicine to treat multiple disease symptoms. Pharmaceutical companies love them because it is far cheaper and quicker to combine existing active ingredients to manufacture new products than to discover new medicines and manufacture them separately.
Why has the government banned them?
The central government took this decision after the Drugs Technical Advisory Board recommended that "there is no therapeutic justification" for the ingredients contained in the banned 328 FDC drugs and that these medicines may involve risk to the patient.
Also, All India Drug Action Network (AIDAN), a network of NGOs that work to increase accessibility and improve the usage of essential medicines, said the people have been supplied with non-standard medicines for long.
How was Vibcare Pharma affected?
None of our products were affected by this ban on FDC. Do check our complete products list.
Here is a complete list of the banned drugs:
Aceclofenac (SR) + Paracetamol
Aceclofenac + Paracetamol + Famotidine
Aceclofenac + Paracetamol + Rabeprazole
Aceclofenac + Zinc Carnosine
Acetaminophen + Guaifenesin + Dextromethorphan + Chlorpheniramine
Acetaminophen + Loratadine + Ambroxol + Phenylephrine
Acriflavine + Thymol + Cetrimide
Acrivastine + Paracetamol + Caffeine + Phenylephrine
Albuterol + Bromhexine + Theophylline
Albuterol + Etofylline + Bromhexine + Menthol
Alginic Acid + Sodium Bicarbonate + Dried Aluminium Hydroxide + Magnesium Hydroxide
Allantoin + Dimethieone + Urea + Propylene + Glycerin + Liquid Paraffin
Ambroxol + Levocetirizine + Phenylephrine + Guaiphenesin + Menthol
Ambroxol + Guaifenesin + Phenylephrine + Chlorpheniramine
Ambroxol + Salbutamol + Choline Theophyllinate + Menthol
Ambroxol + Salbutamol + Theophylline
Ambroxol + Terbutaline + Dextromethorphan
Ambroxol+ Guaiphenesin + Ammonium Chloride + Phenylephrine + Chlorpheniramine Maleate + Menthol
Ammonium Chloride + Dextromethorphan + Cetirizine + Menthol
Ammonium Chloride + Sodium Citrate + Chlorpheniramine Maleate + Menthol
Ammonium Citrate + Vitamin B 12 + Folic Acid + Zinc Sulphate
Amoxicillin + Cefixime + Potassium Clavulanic Acid
Amoxicillin + Dicloxacillin
Amoxicillin 250 mg + Potassium Clavulanate Diluted 62.5
Amoxycillin + Dicloxacillin + Serratiopeptidase
Amoxycillin + Tinidazole
Ascorbic Acid + Manadione Sodium Bisulphate + Rutin + Dibasic Calcium Phosphate + Adrenochrome mono Se
Atorvastatin + Vitamin D3 + Folic Acid + Vitamin B12 + Pyridoxine
Azithromycin + Acebrophylline
Azithromycin + Ambroxol
Azithromycin + Cefixime
Azithromycin + Cefpodoxime
Azithromycin + Levofloxacin
Azithromycin + Ofloxacin
Becloemthasone + Clotrimazole + Chloramphenicol + Gentamycin + Lignocaine Ear drops
Beclomethasone + Clotimazole + Neomycin + lodochlorohydroxyquinone
Beclomethasone + Clotrimazole + Gentamicin + lodochlorhydroxyquinoline
Beclomethasone Diproprionate + Neomycin + Tolnaftate + lodochlorhydroxyquinoline +Chlorocresol
Benfotiamine + Metformin
Benzoxonium Chloride + Lidocaine
Betahistine + Ginkgo Biloba Extract + Vinpocetine + Piracetam
Betamethasone + Fusidic Acid + Gentamycin + Tolnaftate + lodochlorhydroxyquinoline (ICHQ)
Betamethasone + Gentamicin + Tolnaftate + lodochlorhydroxyquinoline
Betamethasone + Gentamycin + Zinc Sulphate + Clotrimoazole + Chlorocresol
Betamethasone + Neomycin + Tolnaftate + lodochlorohydroxyquinoline + Cholorocresol
Borax + Boric Acid + Naphazoline + Menthol + Camphor + Methyl Hydroxy Benzoate
Bromhenxine + Phenylephrine + Chlorpheniramine + Paracetamol
Bromhexine + Cetrizine + Phenylephrine IP+Guaifenesin + Menthol
Bromhexine + Dextromethorphan
Bromhexine + Dextromethorphan + Phenylephrine + Menthol
Bromhexine + Phenylephrine + Chlorepheniramine Maleate
Caffeine + Paracetamol + Chlorpheniramine
Caffeine + Paracetamol + Phenylephrine + Cetirizine
Calcium Gluconate + Chlorpheniramine + Vitamin C
Calcium Gluconate + Levocetirizine
Cefixime + Levofloxacin
Cefixime + Linezolid
Cefpodoxime Proxetil + Levofloxacin
Cefuroxime + Linezolid
Cephalexin + Neomycin + Prednisolone
Certirizine + Phenylephrine + Paracetamol + Caffeine + Nimesulide
Cetirizine + Acetaminophen + Dextromethorphan + Phenyephrine + Zinc Gluconate
Cetirizine + Ambroxol + Guaiphenesin + Ammonium Chloride + Phenylephrine + Menthol
Cetirizine + Dextromethorphan + Ambroxol
Cetirizine + Dextromethorphan + Bromhexine + Guaifenesin
Cetirizine + Dextromethorphan + Phenylephrine + Tulsi
Cetirizine + Dextromethorphan + Phenylephrine + Zinc Gluconate + Paracetamol + Menthol
Cetirizine + Dextromethorphan + Zinc Gluconate + Menthol
Cetirizine + Diethyl Carbamazine
Cetirizine + Phenylephrine + Dextromethorphan + Menthol
Cetirizine + Phenylephrine + Paracetamol + Ambroxol + Caffeine
Cetirizine + Phenylephrine + Paracetamol + Zinc Gluconate
Cetririzine + Nimesulide + Phenylephrine
Chlopheniramine Maleate + Dextromethorphan + Guaiphensin + Phenylephrine
Chloramphenicol + Beclomethasone + Clomitrimazole + Lignocaine
Chloramphennicol + Lignocaine + Betamethasone + Clotrimazole + Ofloxacin + Antipyrine
Chlorphaniramine + Ammonium Chloride + Sodium Chloride
Chlorpheniramine + Ammonium Chloride + Chloroform + Menthol
Chlorpheniramine + Ammonium Chloride + Noscapine + Sodium Citrate
Chlorpheniramine + Codeine + Sodium Citrate + Menthol Syrup
Chlorpheniramine + Dextromethorphan + Phenylephrine + Paracetamol
Chlorpheniramine + Paracetamol + Pseudoephedrine + Caffeine
Chlorpheniramine + Phenylephrine + Caffeine
Chlorpheniramine + Phenylephrine + Dextromethophan + Menthol
Chlorpheniramine + Phenylephrine + Paracetamol + Zink Gluconate
Chlorpheniramine + Terpin + Antimony Potassium Tartrate + Ammonium Chloride + SodiumCitrate + Menthol
Chlorpheniramine + Vasaka + Tolubalsm + Ammonium Chloride + Sodium Citrate + Menthol
Chlorpheniramine + Vitamin C
Chlorpheniramine Maleate + Ammonium Chloride + Sodium Citrate
Chlorpheniramine+Ammonium Chloride + Menthol
Chlorpromazine + Trihexyphenidyl
Chromium Polynicotinate + Metformin
Cilnidipine + Metoprolol Succinate + Metoprolol Tartrate
Ciprofloxacin + Fluocinolone + Clotrimazole + Neomycin + Chlorocresol
Ciprofloxacin + Fluticasone + Clotrimazole + Neomycin
Ciprofloxacin + Phenazopyridine
Clidinium + Paracetamol + Dicyclomine + Activated Dimethicone
Clindamycin + Clotrimazole + Lactic Acid Bacillus
Clindamycin + Telmisartan
Clobetasol + Gentamicin + Tolnaftate + lodochlorhydroxyquinone + Ketoconazole
Clobetasol + Neomycin + Miconazole + Clotrimazole
Clobetasol + Neomycin + Miconazole + Zinc Sulphate
Clobetasol + Ofloxacin + Ketoconazol + Zinc Sulphate
Clobetasol + Ofloxacin + Miconazole + Zinc Sulphate
Clobetasol Propionate + Ofloxacin + Ornidazole + Terbinafine
Clobetasole + Gentamicin + Miconazole + Zinc Sulphate
Clomifene Citrate + Ubidecarenone + Zinc + Folic Acid + Methylcobalamin + Pyridoxine + Lycopene+ Selenium + Levocarnitine Tartrate + L-Arginine
Clotrimazole + Beclomethasone + Lignocaine + Ofloxacin + Acetic Aicd + Sodium Methyl Paraben +Propyl Paraben
Clotrimazole + Beclomethasone + Ofloxacin + Lignocaine
Clotrimazole + Ofloxaxin + Lignocaine + Glycerine and Propylene Glycol
Codeine + Chlorpheniramine + Alcohol Syrup
Codeine + Levocetirizine + Menthol
Combikit of 3 tablets of Serratiopeptidase (enteric coated 20000 units) + Diclofenac
Potassium & 2 tablets of D
Combikit of Azithromycin, Secnidazole and Fluconazole
Combikit of Fluconazole Tablet, Azithromycin Tablet and Ornidazole Tablets
Cyproheptadine + Thiamine
Dextrometharphan + Chlopheniramine + Ammonium Chloride+ Menthol
Dextrometharphan + Chlopheniramine + Ammonium + Sodium Citrate + Menthol
Dextrometharphan + Phenylephrine + Guaiphenesin
Dextromethophan + Chlopheniramine + Bromhexine
Dextromethorphan + Ambroxol + Ammonium Chloride + Chlorpheniramine + Menthol
Dextromethorphan + Ambroxol + Guaifenesin + Phenylephrine + Chlorpheniramine
Dextromethorphan + Bromhexine + Guaiphenesin
Dextromethorphan + Bromhexine + Guaiphenesin + Menthol
Dextromethorphan + Cetirizine
Dextromethorphan + Cetirizine + Guaifenesin + Ammonium Chloride
Dextromethorphan + Chlorpheniramine + Chlorpheniramine Maleate
Dextromethorphan + Chlorpheniramine + Guaiphenesin
Dextromethorphan + Levocetirizine + Phenylephrine + Zinc
Dextromethorphan + Paracetamol + Cetirizine + Phenylephrine
Dextromethorphan + Phenylephrine + Ammonium Chloride + Menthol
Dextromethorphan + Phenylephrine + Bromhexine + Guaifenesin + Chlorpheniramine
Dextromethorphan + Phenylephrine + Cetirizine + Paracetamol + Caffeine
Dextromethorphan + Phenylephrine + Cetirizine + Zinc + Menthol
Dextromethorphan + Phenylephrine + Guaifenesin + Certirizine + Acetaminophen
Dextromethorphan + Phenylephrine + Guaifenesin + Triprolidine
Dextromethorphan + Phenylephrine + Tripolidine + Menthol
Dextromethorphan + Phenylephrine + Zinc Gluconate + Menthol
Dextromethorphan + Tripolidine + Phenylephirine
Dextromethorphan + Triprolidine + Phenylephrine
Dextromethorphen + Bromhexine + Chlorpheniramine Maleate + Guaiphenesin
Dextromethorphen + Promethazine
Diclofenac + paracetamol + chlorpheniramine maleate + mgnesium Trisillicate
Diclofenac + Paracetamol + Chlorzoxazone + Famotidine
Diclofenac + paracetamol + magnesium Trisilicate
Diclofenac + Paracetamol injection
Diclofenac + Tramadol + Chlorzoxazone
Diclofenac + Tramadol + Paracetamol
Diclofenac + Zinc Carnosine
Dicyclomine + Paracetamol + Domperidone
Diethyl Carbamazine + Chlorpheniramine + Guaifenesin
Diethylcabamazine Citrate + Cetirizine + Guaiphenesin
Diethylcarbamazine + Cetirizine + Ambroxol
Diphenhydramine + Guaifenesin + Bromhexine + Ammonium Chloride + Menthol
Diphenhydramine + Guaiphenesin + Ammonium Chloride + Bromhexine
Diphenhydramine + Terpine + Ammonium Chloride + Sodium Chloride + Menthol
Diphenoxylate + Atropine + Furazolidonee
Disodium Hydrogen Citrate + Paracetamol
Doxycycline + Serratiopeptidase
Doxylamine + Pyridoxine + Mefenamic Acid + Paracetamol
Dried Alumnium Hydroxie Gel + Prophantheline + Diazepam
Drotaverine + Clidinium + Chlordiazepoxide
Enrofloxacin + Bromhexin
Ergotamine Tartrate + Belladona Dry Extarct+Caffeine + Paracetamol
Ethylmorphine + Noscapine + Chlorpheniramine
Famotidine + Oxytacaine + Magaldrate
Flunarizine + Paracetamole + Domperidone
Flupentixol + Escitalopram
Furazolidone + Metronidazole + Loperamide
Gabapentin + Mecobalamin + Pyridoxine + Thiamine
Gentamicin Sulphate + Clotrimazole + Betamethasone + Lignocaine
Gentamycin + Dexamethasone + Chloramphenicol + Tobramycin + Ofloxacin
Glibenclamide + Metformin (SR)+ Pioglitazone
Gliclazide 40mg + Metformin 400mg
Gliclazide 80 mg + Metformin 325 mg
Glimepiride + Pioglitazone + Metformin
Glimepiride 1mg/2mg/3mg + Pioglitazone 15mg/15mg/15mg + Metformin 1000mg/1000mg/1000mg
Glimepiride 1mg/2mg+ Pioglitazone 15mg/15mg + Metformin 850mg/850mg
Glipizide 2.5mg + Metformin 400 mg
Glucosamine + Methyl Sullfonyl Methane + Vitamin D3 + Manganese + Boron + Copper + Zinc
Guaifenesin + Bromhexine + Chlorpheniramine + Paracetamol
Guaifenesin + Bromhexine + Chlorpheniramine + Phenylephrine + Paracetamol + Serratiopeptidase(as enteric coated granules) 10000 SP Units
Guaifenesin + Dextromethorphan
Guaifenesin + Diphenhydramine + Bromhexine + Phenylephrine
Heparin + Diclofenac
Imipramine + Chlordiazepoxide + Trifluoperazine + Trihexyphenidyl
Ketoconazole + Tea Tree oil + Allantion + Zinc Oxide + Aloe Vera + Jojoba oil +Lavander oil + Soa noodels
Ketotifen + Cetirizine
Ketotifen + Levocetrizine
Ketotifen + Theophylline
L-5-Methyltetrahydrofolate Calcium + Escitalopram
L-Arginine + Sildenafil
Levocetirizine + Ambroxol + Phenylephrine + Guaiphenesin
Levocetirizine + Ambroxol + Phenylephrine + Paracetamol
Levocetirizine + Dextromethorphan + Zinc
Levocetirizine + Montelukast + Acebrophylline
Levocetirizine + Paracetamol + Phenylephirine + Caffeine
Levocetirizine + Phenylephrine + Ambroxol + Guaiphenesin + Paracetamol
Levocetirizine + Ranitidine
Levofloxacin + Bromhexine
Levofloxacin + Ornidazole + Alpha Tocopherol Acetate
Levothyroxine + Phyridoxine + Nicotinamide
Lignocaine + Clotrimazole + Ofloxacin + Beclomethasone
Lornoxicam + Paracetamol + serratiopeptidase
Lornoxicam + paracetamol + Tramadol
Lornoxicam + paracetamol + trypsin
Magaldrate + Famotidine + Simethicone
Magaldrate + Papain + Fungul Diastase + Simethicone
Magaldrate + Ranitidine + Pancreatin + Domperidone
Mebeverine & Inner HPMC capsule (Streptococcus Faecalis + Clostridium butyricum +
Bacillusmesentricus + Lactic Acid Bacillus)
Menthol + Anesthetic Ether
Metformin (SR) 500mg + Pioglitazone 5mg
Metformin (Sustainded Release) 500mg + Pioglitazone 15 mg + Glimepiride 3mg
Metformin + Atorvastatin
Metformin + Bromocriptine
Metformin + Gliclazide + Chromium Polynicotinate
Metformin + Gliclazide + Piogllitazone + Chromium Polynicotinate
Metformin + Glimepiride + Methylcobalamin
Metformin 1000/1000/500/500mg + Pioglitazone 7.5/7.5/7.5/7.5mg + Glimepiride 1/2/1/2mg
Metformin 500mg/500mg+Gliclazide SR 30mg/60mg + Pioglitazone 7.5mg/7.5mg
Metformin 850mg + Pioglitazone 7.5 mg + Glimepiride 1mg
Metformin 850mg + Pioglitazone 7.5 mg + Glimepiride 2mg
Metformin ER + Gliclazide MR + Voglibose
Metronidazole + Norfloxacin
Metronidazole + Tetracycline
N-Acetyl Cysteine + Ambroxol + Phenylephrine + Levocertirizine
Naphazoline + Carboxy Methyl Cellulose + Menthol + Camphor + Phenylephrine
Naphazoline + Chlorpheniramine + Zinc Sulphate + Boric Acid + Sodium Chloride + Chlorobutol
Naproxen + Paracetamol
Neomycin + Doxycycline
Nimesulide + Certirizine + Phenylephrine
Nimesulide + Cetrizine + Caffeine
Nimesulide + Diclofenac
Nimesulide + Dicyclomine
Nimesulide + Loratadine + Phenylephrine + Ambroxol
Nimesulide + Paracetamol + Cetirizine + Phenylephrine
Nimesulide + Paracetamol + Levocetirizine + Phenylephrine + Caffeine
Nimesulide + paracetamol Injection
Nimesulide + Paracetamol Suspension
Nimesulide + Phenylephrine + Caffeine + Levocetirizine
Nimesulide + Pitofenone + Fenpiverinium + Benzyl Alcohol
Nimesulide + Serratiopeptidase
Nimesulide + Tizanidine
Nimorazole + Ofloxacin
Norfloxacin+ Metronidazole + Zinc Acetate
Oflaxacin + Ornidazole Suspension
Ofloxacin + Clotrimazole + Betamethasone + Lignocaine
Ofloxacin + Metronidazole + Zinc Acetate
Ofloxacin + Nitazoxanide
Ofloxacin + Ornidazole + Zinc Bisglycinate
Olmesartan + Hydrochlorothiazide + Chlorthalidone
Omepraozle + Paracetmaol+ Diclofenac
Oxetacaine + Magaldrate + Famotidine
Pantoprazole (as Enteric Coated Tablet) + Zinc Carnosine (as Film Coated Tablets
Paracetamol + Ambroxol + Phenylephrine + Chlorpheniramine
Paracetamol + Caffeine + Codeine
Paracetamol + Caffine + Phenylephrine + Chlorpheniramine
Paracetamol + Cetrizine + Caffeine
Paracetamol + Chlorpheniramine + Ambroxol + Guaifenesin + Phenylephrine
Paracetamol + Codeine + Chlorpheniramine
Paracetamol + Dextromethorphan + Bromhexine + Phenylephrine + Diphenhydramine
Paracetamol + Dextromethorphan + Chlorpheniramine
Paracetamol + Diclofenac + famotidine
Paracetamol + Disodium Hydrogen Citrate + Caffeine
Paracetamol + DL Methionine
Paracetamol + domperidone + Caffeine
Paracetamol + Levocetirizine + Phenylephirine + Zink Gluconate
Paracetamol + Levocetirizine + Pseudoephedrine
Paracetamol + Loratadine + Dextromethophan + Pseudoepheridine + Caffeine
Paracetamol + Loratadine + Phenylephrine + Dextromethorphan + Caffeine
Paracetamol + mefenamic Acid + ranitidine + Dicyclomine
Paracetamol + Pheniramine
Paracetamol + Phenylephrine + Chlorpheneramine + Dextromethorphan + caffeine
Paracetamol + Phenylephrine + Chlorpheniramine + Zinc Gluconate
Paracetamol + Phenylephrine + Desloratadine + Zinc Gluconate + Ambroxol
Paracetamol + Phenylephrine + Levocetirizine + Caffeine
Paracetamol + Phenylephrine + Triprolidine
Paracetamol + Phenylephrine + Triprolidine + Caffeine
Paracetamol + Prochloperazine
Paracetamol + Prochlorperazine Maleate
Paracetamol + Promethazine
Paracetamol + Propyphenazone + Caffeine
Paracetamol + Pseudoephedrine + Cetrizine
Paracetamol + Pseudoephedrine + Dextromethorphan + Cetirizine
Paracetamol + Tapentadol
Paracetamol+Phenylephrine+Levocetirizine+Sodium Citrate
Paracetamol+Pseudoephedrine+Certirizine+Caffeine
Permethrin + Cetrimide + Menthol
phenylbutazone + sodium salicylate
Phenylephrine + Chlorpheniramine + Paracetamol + Bromhexine + Caffeine
Pholcodine + Phenylephrine + Promethazine
Pioglitazone 15mg + Metformin 850 mg
Pioglitazone 30 mg + Metformin 500 mg
Pioglitazone 7.5/7.5mg + Metformin 500/1000mg
Pseudoephedrine + Bromhexine
Pseudoephedrine + Cetirizine
Pseudoephedrine + Dextromethorphan + Cetirizine
Rabeprazole + Diclofenac + Paracetamol
Rabeprazole + Zinc + Domperidone
Rabeprazole + Zinc Carnosine
Ranitidine + Domperidone + Simethicone
Ranitidine + Magaldrate
Ranitidine + Magaldrate + Simethicone
Roxithromycin + Serratiopeptidase
Salbutamol + Aminophylline + Guaiphensin
Salbutamol + Bromhexine + Guaiphenesin + Menthol
Salbutamol + Certirizine + Ambroxol
Salbutamol + Choline Theophylinate + Ambroxol
Salbutamol + Choline Theophylinate + Carbocisteine
Salbutamol + Theophylline + Bromhexine
Salbutamol+Hydroxyethyltheophylline (Etofylline) + Bromhexine
Sildenafil + Estradiol Valerate
Tamsulosin + Diclofenac
Telmisartan + Metformin
Terbutaline + Ambroxol + Guaiphenesin + Zinc + Menthol
Terbutaline + Bromhexine + Etofylline
Terbutaline + Bromhexine + Guaiphenesin + Dextromethorphan
Terbutaline + Etofylline + Ambroxol
Terbutaline + N-Acetyl L-Cysteine + Guaifenesin
Terpinhydrate + Dextromethorphan + Menthol
Thyroid + Thiamine + Riboflavin + Phyridoxine + Calcium Pantothenate + Tocopheryl Acetate +Nicotinamide
Thyroxine + Pyridoxine + Folic Acid
Tranexamic Acid + Proanthocyanidin
Ursodeoxycholic Acid + Silymarin
Voglibose + Pioglitazone + Metformin
Voglibose+ Metformin + Chromium Picolinate
Zinc Carnosine + Magnesium Hydroxide + Dried Aluminium Hydroxide + Simethicone
Zinc Carnosine + Oxetacaine
Zinc Carnosine + Sucralfate
Reference : National Health Portal